In the following article, we discuss the arrival of Jadon Sancho and how he might fit into Fantasy Premier League. We assess his underlying data and look at how they might translate from the Bundesliga to the Premier League. We also compare Sancho with his United colleagues and similar assets across the division.
It's finally happened, after weeks of waiting Jadon Sancho (£9.5m) has finally been unveiled as a Manchester United player.
One of the longest transfer sagas in recent memory is finally over and United fans can rejoice in seeing their new man wearing the famous red shirt.
The deal was announced by the club almost a month ago at time of writing, but due to the Euros and drawn out legal processes the deal has only now been confirmed. Sancho's signing is the first landmark deal of the summer window and perhaps the first domino to fall in a long line of rumoured transfers.
FPL managers have been waiting patiently for Sancho's price reveal, as many suspected he has been priced equal to new colleague Marcus Rashford (£9.5m). The talk for weeks has been centered around how the ex-Dortmund man will fit into our FPL sides and whether he could now be the go to asset from the red half of Manchester.
That remains to be seen, but as we discuss below there is certainly enough reason to be excited about Sancho's addition to the game.
The Stats
We've all heard how good Sancho has been in the Bundesliga and despite not fully flourishing for England, he has still shown glimpses of his quality internationally.
While a few in the FPL community will no doubt have watched plenty of him over the last three seasons, there are many, myself included, who have only seen Twitter highlight reels. For the most part, a lot of us will be going in relatively blind, using mostly data to assess Sancho's prospects.
As the table above shows, Sancho has played across the front four for Dortmund and has managed an incredible 114 goal involvements in 137 total appearances. Even if we only consider league output, the most relevant for FPL, he has still managed 89 goals and assists in 104 appearances.
Just going off raw output it is easy to understand why so much hype exists around the move. The price tag alone is enough to create headlines, but considering Sancho is only 21, an England international, one of the highest performing attackers across the whole continent and is signing for perhaps the world's most famous football club, we are talking about a deal of stratospheric importance.
Delving into the expected data we can see further evidence of the Englishman's quality. His expected assists (xA) total for last season was 6.8, tied for seventh in the Bundesliga and would have placed him tied for tenth with Andrew Robertson (£7.0m) in Premier League terms.
While not a staggering total it has be noted that Sancho only featured in 26/34 league games for Dortmund. As such, it makes more sense to use per 90 minute stats in order to better assess Sancho's season.
His xA per 90 total of 0.30 was only bettered by Kevin De Bruyne (£12.0m), Jack Grealish (£8.0m), Bruno Fernandes (£12.0m) and Raphinha (£6.5m), who posted 0.46, 0.35, 0.32 and 0.31 respectively.
In Premier League terms, Sancho is in esteemed company. The aforementioned quartet are among the best value assets in FPL and being so close to them in performance already suggests that Sancho could be equally valuable.
From a goal scoring perspective he could also prove strong, Sancho's non-penalty xG per 90 (npxG/90) over his four seasons in Germany is a respectable 0.31. Although not spectacular, the total indicates that he may be capable of reaching double digits for goals and assists over a whole campaign.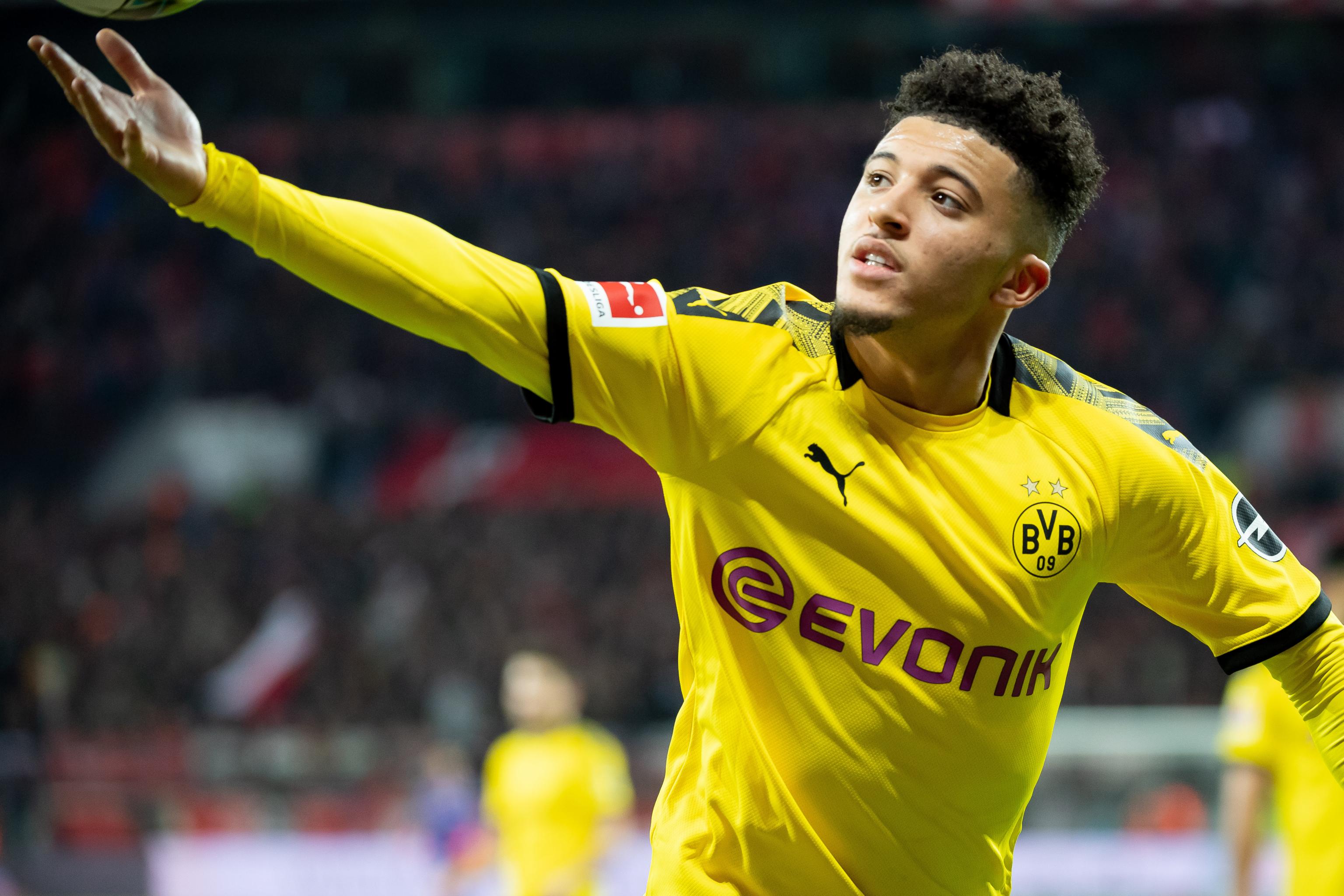 For comparison, Sancho's npxG/90 for last season was identical to Phil Foden (£8.0m). Foden's price seems cheap but given he played only marginally over 1600 minutes, it is a price that takes expected minutes into account. If the City man was likely to receive similar minutes to his United counterpart, then it's probable that he would be priced close to Sancho at £9.5m.
If we combine non-penalty expected goals and expected assists per 90 (npxG+xA/90), then we get an even better idea of where Sancho may fall in the FPL pecking order.
The new United recruit's Dortmund career average of 0.62 would have placed him tied for fifth with Michail Antonio (£7.5m), Kelechi Iheanacho (£7.5m) and Timo Werner (£9.0m) among FPL assets last season. Consider also, that none of these three are either nailed or fit enough to play a full season, if Sancho can play close to 38 games then his per 90 stats indicate that he could be an absolute star performer.
Referring back to npxG+xA/90, Sancho's Dortmund average was actually only bettered by KDB, Sadio Mane (£12.0m) and Mo Salah (£12.5m) among FPL midfielders last campaign, even with potential regression it looks as though we could have a serious player on our hands.
If we take penalties in to account, which ultimately we have to, then Bruno does pull ahead with a per 90 xG + xA total of 0.77. Sancho's total of 0.63 is still strong and puts him ahead of similarly priced assets Heung Min-Son (£10.0m) and Riyad Mahrez (£9.0m), who totaled 0.55 and 0.53 respectively.
His total is also well clear of Marcus Rashford's 0.40 and while Edinson Cavani (£8.5m) posted a strong 0.66 it is very likely he has his minutes significantly managed due to age. I still believe Bruno to be the premier Man Utd asset, but I would place Sancho second based on the strength of his data.
Whether Fernandes is worth the extra £2.5m will largely depend on how many penalties United receive, if they continue to be awarded spot kicks at the same rate then it will be tough for Sancho to get close to Bruno's FPL score. Should their numbers drop then it will likely bring the new teammates closer together and therefore create an interesting dilemma.
Before we move on, it is worth mentioning that Sancho scored in 50.6% of games in which he played on the left for Dortmund, this reduced to 34.7% when fielding on the right. His assist threat appears to marginally increase on that side, but overall I suspect we will see some regression on his total goal involvement if he does play primarily on United's right as expected.
It should be noted that he will likely start the season on the left, with neither Rashford or Anthony Martial (£8.0m) fit and Mason Greenwood (£7.5m) likely to start on the right in order to fit him and Cavani in the same lineup. Normally it is wise to wait on players that are new to the league, but the prospect of Jadon Sancho being overlapped by Luke Shaw (£5.5m) for the first few weeks is mouthwatering.
Bundesliga Tax
It has become an unfortunate trait of football Twitter to brand any league foreign to theirs as a 'farmer's league', a rather derogatory way of belittling the quality of divisions abroad.
The term 'Bundesliga tax' is also banded around with similar flippancy. This exists, in part, due to the inconsistency suffered by Chelsea trio Timo Werner, Kai Havertz (£8.5m) and Christian Pulisic (£8.0m) following their moves from Germany.
For every Werner there is a Pierre-Emerick Aubameyang (£10.0m) or Heung-Min Son, both of whom have had excellent Premier League careers.
Data wise there doesn't appear to be much evidence of the existence of this 'tax', Son's numbers are miles better for Spurs than they ever were for Leverkusen and Auba's early stats for Arsenal were very close to his Dortmund numbers.
Werner is seen as having had a poor first season for Chelsea, but his npxG+xA/90 total of 0.62 tracks closely to the 0.64 and 0.68 that he accrued in his first two seasons at RB Leipzig. It is more probable that the 0.93 he totaled in 19/20 is simply a spectacular outlier and not a true reflection of his likely output.
I'm certain Werner was unlucky in his first season with Chelsea, and should he not under perform on his data so severely this campaign it is possible that he could return approximately 22-25 times, if he nails down a starting spot.
Kai Havertz had a first Premier League season blighted by misfortune too, the young German spent time on the sidelines due to a mixture of injury and the coronavirus. He didn't really find his feet until compatriot Thomas Tuchel took the reigns at Stamford Bridge.
Havertz's per 90 data doesn't suggest any drop off from his Bundesliga days has occurred. His npxG+xA/90 total of 0.46 tracks identically to his career average for Leverkusen, his teammate Pulisic has actually marginally improved from 0.48 to 0.52.
In summary, there doesn't appear to be anything to backup the 'Bundesliga tax' theory, at least not in a data sense. These players, like Sancho, have come from top clubs in Germany to top clubs in England and as such they should be able to sustain similar levels of output in the long term.
Fitting Sancho In
At £9.5m it feels tough to fit Sancho in to the current template lineup (see this article for more information on the most popular picks). To accommodate him it is likely an adjustment will need to be made in both formation and the spread of price points.
In the above selection I have included Sancho without having to compromise on Salah or Fernandes. If I were to pick the new United signing in my squad it would likely be in this format.
I like the Leeds-Brighton rotation in defence, and the only major adjustment I have had to make is dropping Andy Robertson and Luke Shaw to Wesley Fofana (£4.5m) and Javier Manquillo (£4.0m). The team still has enough guaranteed starters and enough cover on the bench to rotate if needed.
The move also necessitated dropping a £7.5m forward down to Ivan Toney (£6.5m), although depending on your stance on the Brentford man it could be argued this is not a downgrade.
The squad is still nicely balanced and it doesn't feel particularly over-committed in any position, despite the extra spend in midfield.
The other option I like is to drop Bruno and the spread the funds, although I don't need to tell you how risky that is. If you weren't keen on the United midfield double up then releasing Bruno allows significant upgrades elsewhere.
Toney becomes Dominic Calvert-Lewin (£8.0m), a great upgrade given Everton's early run. Shaw comes back in for Fofana and Ben White (£4.5m), Arsenal move assumed, comes in for Manquillo. This gives the squad an extra player in effect.
Mahrez is my Bruno replacement, although not sure of minutes it could be a good risk to take given City play Norwich at home in GW2 and the squad has bench cover should the worst happen.
I'm yet to experiment outside of 3-4-3, but no doubt you could make Sancho work in other variations.
Conclusion
Clearly there is a great deal of expectation with Sancho and I would urge caution despite his obvious talents. He is more biased towards assists than goals, so I'm not certain I would view him as captaincy material, but he still carries more goal threat than the likes of Jack Grealish.
£9.5m is a fair price based on his data and although I expect some regression I doubt it will be significant. I'm certain there will be a point where Sancho is very well owned based on performance and not just pre-season hysteria.
It is likely I will go without him to start the campaign, but I wouldn't be surprised to see him quickly work his way into the thoughts of even the most wary fantasy managers.
Sancho has the ability to become a fantastic Premier League player and if he continues on his current path I believe he will come to be seen as one of the best players in the division over time.
For now, enjoy the hype, nothing gets the football juices flowing like a big transfer. I'm sure we'll see Jadon in plenty of drafts before the season begins, by all accounts he will be a fantastic addition to FPL.
More to come
We hope you enjoyed our first look at Jadon Sancho ahead of the 2021/22 Fantasy Premier League season. We have plenty more planned for pre season and will be publishing advice, team reveals and more strategy guides right up until the big kickoff.
Be sure to keep your eyes on the FPL Connect twitter page for all our latest releases, this season promises to be our biggest yet.
*Underlying data taken from fbref.com and raw data provided by transfermarkt.co.uk*