In the following article, we look at the current 'template' side in Fantasy Premier League, according to live ownership. We discuss whether the popularity of these players is justified, while assessing which options are worth picking and which are best avoided.
The word 'template' can mean many things in the world of Fantasy Premier League. It can describe the most owned or popular players, it can be attached to squad selection that is perceived as 'safe' or it can be a polite way of suggesting a certain strategy is boring.
While the most popular players are often that way for a reason, it is impossible to win FPL or reach its upper echelons by solely targeting the highest owned assets.
The key to FPL is finding a blend between the popular picks that are too strong to go without and differential players who can outscore assets with much greater ownership.
To beat the template you must first understand it, as such it is important to be aware of which players are likely to in the majority of squads when the season starts.
Goalkeepers
I'm going to start with a massive omission. Emi Martinez (£5.5m), at 39.6% owned, is far and away the most selected Goalkeeper so far.
However, given his new premium price tag it was impossible to get him into this team. My philosophy has always been to select budget keepers from teams that keep things tight against weaker opposition and who will be busier against better opposition, thus giving them higher potential for save and bonus points.
So as Villa improve, his bonus potential becomes less and he misses out for me in this instance.
Robert Sanchez (£4.5m) – Brighton (27.0%)
Sanchez is expected to start as first choice despite the arrival of Kjell Scherpen (£4.5m). He kept 10 clean sheets in 27 appearances last season amassing 101 points.
Maintaining that form over 38 games would see him in rank alongside the £5.0m and some of the £5.5m options. Brighton start off with fixtures against Burnley (A), Watford (H), Everton (H), Brentford (A) and Leicester (H) which is relatively friendly.
Verdict: Start
Ben Foster (£4.0m) – Watford (24.5%)
A previous FPL favourite, Foster started 23 of Watford's games in the Championship last year. However, following Xisco Munoz's appointment in December 2020, Foster started only one game after 16th January 2021.
Austrian International Daniel Bachmann (£4.5m) was preferred until the last game of the season. Popular probably for no other reason than his £4.0m price tag, but most people's second keeper will be dictated by their first anyway as they select pair rather than splashing out on two more expensive options.
It is worth mentioning that picking a popular £4.0m keeper leaves you vulnerable to early price drops, even a £0.1m decrease could prove problematic later on. Given this spot is essential just dead money, you might as well go for a low owned pick and remove all risk.
Verdict: Swerve
Defenders
Luke Shaw (£5.5m) – Manchester United – (45.9%)
Shaw regained his place in United's starting lineup in Autumn 2020, going on to make 32 appearances and collecting a goal and 5 assists along the way.
During the second half of the season his expected assist (xA) numbers were consistently in the top three in the league and his stock rose further with an excellent Euro 2020 for England. United start with games against Leeds (H), Southampton (A), Wolves (H), Newcastle (H) and West Ham (A) so I'm predicting a strong start.
The transfer of long time United target Raphael Varane looks to be moving closer, he could form a formidable pairing with Harry Maguire (£5.5m) and further improve their chances of clean sheets next year. My only concern with Shaw would be how much rest gets given his prolonged involvement at Euro 2020, but his ownership levels are completely justified for me.
Verdict: Start
Trent Alexander Arnold (£7.5m) – Liverpool (27.4%)
Despite a mixed season last year, both personally and the Liverpool defence as a whole, Alexander-Arnold still managed to rack up 160 points.
This was some way off his previous two seasons (19/20 – 210 and 18/19 – 185) but he still managed two goals and eight assists. With Virgil Van Dijk (£6.5m) and Joe Gomes (£5.0m) fit again and the arrival of Ibrahima Konate (£5.5m) Liverpool should be stronger defensively. They open with fixtures against Norwich (A), Burnley (H), Chelsea (H), Leeds (A) and Palace (H) so there should be plenty of opportunities for points at both ends.
Verdict: Start
Wesley Fofana (£4.5m) – Leicester (26.2%)
At £4.5m and a regular in a defensively solid top 6 side, I understand the appeal of the 20 year old Frenchman. 71 points in 28 Premier League appearances last year is hardly ground-breaking though. He's yet to register a single goal or assist in league football in his professional career.
Leicester kept 11 clean sheets last year (Fofana was involved in seven of them) and five of them were away from home. Last season saw an unusually high volume of away clean sheets which can be attributed to the lack of fans in the stadium, so I wonder if we are going to see that drop with spectators returning.
With uncertainty of Leicester's defensive prospects and no potential for attacking returns, I think there are better options, despite the attractive price tag.
Verdict – Swerve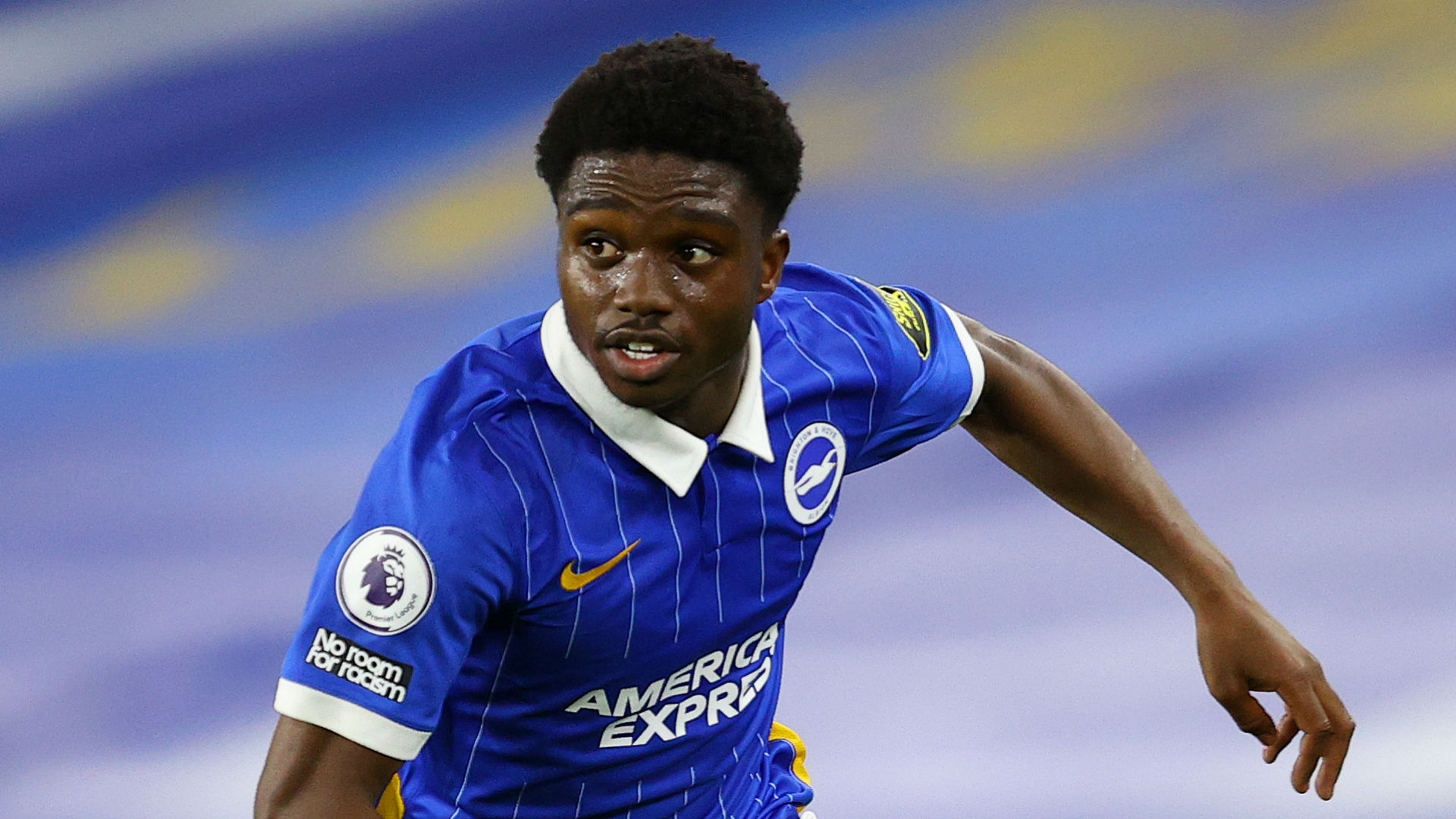 Tariq Lamptey (£4.5m) – Brighton (19.1%)
At times he looked like he could be a superstar last season but injuries and lack of experience limited him to 11 Premier League appearances.
He was able to register one goal and three assists in that time, so if he can nail down his place in the team this could be his season. A lot will depend on how Brighton line up if Ben White (£4.5m) departs, as is widely expected.
Brighton start with Burnley (A), Watford (H), Everton (H), Brentford (A) and Leicester (H), a strong run on paper. It would be wise to retain some caution with their assets given their recent history of under performing defensively.
Verdict – Bench
Javier Manquillo (£4.0m) – Newcastle (11.6%)
Manquillo didn't return to the Newcastle side after going off injured on 6th Feb 2021. He'd only made 13 appearances up to that point in a Newcastle side that struggled defensively.
He has only five assists in 73 appearances over four seasons, so unless something changes he would purely be a squad enabler at £4.0m. Personally, I want all my players contributing so I think there a plenty better options for just £0.5m more.
Verdict – Swerve
Honourable Mentions
I wanted to keep this a realistic 15 man squad so I had to stick to budget and squad rules. Ruben Dias (£6.0m) at 25.9%, Lucas Digne (£5.5m) at 22.7% and Aaron Cresswell (£5.5m) at 19.4% are all popular choices but not viable within budget when selecting the two most popular, more premium defenders (Shaw and Alexander-Arnold).
Midfielders
Mohammed Salah (£12.5m) – Liverpool (49.9%)
No surprises here, Salah is the most consistent performer over the last 4 years in FPL with 95 goals and 40 assists averaging 256.5 points per season.
Even, with Liverpool's (and his own) mid season dip last year his numbers were consistent. Liverpool have good early fixtures and he is likely to be the top captaincy pick in gameweek one. I genuinely can't find any reason why he shouldn't be in everyone's 15.
Verdict – Start
Bruno Fernandes (£12.0m) – Manchester United (41.6%)
Fernandes actually outscored Salah to be the top points scorer in the whole game last year, with 244, and he just pips Salah for points per minute since joining United in January 2020 (0.084 ppm vs Salah's 0.078 ppm).
The only slight concern would be the the number of his goals that are scored from the penalty spot. Only six of Salah's 22 goals were penalties (27%,) compared to nine of Fernandes' 18 (50%). Referees were a little more lenient on defenders after the first eight weeks of last season but only two of his nine penalties were before November 20th 2020.
United historically get more penalties than most sides, to go without Bruno would be a significant risk unless this trend changes.
Verdict – Start
Jack Grealish (£8.0m) – Aston Villa (37.1%)
Grealish finally delivered on his promise in 2020/21 with six goals and 12 assists in his 26 appearances. His season was curtailed by injury but he looked back to his best in fleeting appearances for England in Euro 2020.
Much will depend on if his proposed move to Manchester City goes through, but currently faces Watford (A), Newcastle (H) and Brentford (A) before Villa's fixtures toughen up.
Verdict – Start
Raphinha (£6.5m) – Leeds United (24.6%)
The Brazilian was a star for Marcelo Bielsa last year, delivering six goals and ten assists in his 30 appearances with a points per minute ratio only slightly lower than that of Grealish (0.056 vs 0.062).
With a year in England and the Premier League under his belt we should expect the 24 year old to improve and his points potential increases further. Leeds have a tough start with Manchester United (A), Everton (H) and Liverpool (H) in their first four fixtures.
Verdict – Bench
Yves Bissouma (£4.5m) – Brighton (16.3%)
Bissouma pips Mason Mount (£7.5m) at 20.9% and Stuart Dallas (£5.5m) at 18.0% due to the need to keep the squad on budget.
He is currently chosen by nearly twice as many managers as the next most popular budget Midfielder, Billy Gilmour (£4.5m) at 8.2%. He picked up only one goal in his 36 appearances last year and only 77 points in total, but this was the highest of any midfielder currently priced £4.5m or below.
He may be a necessary evil if you want multiple premium players.
Verdict – Bench
Forwards
Ivan Toney (£6.5m) – Brentford (35.3%)
With 23 goals and 14 assists last season I find it difficult to believe we aren't considering Harry Kane (£12.5m) (28.6%) for this squad. However the uncertainty over any move he may get and the need to ease him back in after a crazy 15 months of fixtures is obviously putting people off at the minute. That coupled with a hefty £2.0m premium on his last season starting price of £10.5m.
Patrick Bamford (£8.0m) with 194 points in 2020/21, Ollie Watkins (£7.5m) with 168 points in 2020/21 and Teemu Pukki (£6.0m) with 139 points in 2019/20, have shown that Strikers are capable of bringing their Championship form to the Premier League. With a budget price tag the Championship top scorer with 33 goals (and 10 assists) was always likely to prove popular.
It remains to be seen if Brentford can continue to play the same brand of creative football in the Premier League and if Toney will be able to follow in his fellow Championship graduate's footsteps. They have a tough start at home to Arsenal but then relatively friendly fixtures vs Palace (A), Villa (A), Brighton (H) and Wolves (A). Toney is on penalties for Brentford and they made up 11 of his 33 goals last season.
Verdict – Bench
Ollie Watkins (£7.5m) – Aston Villa (33.4%)
Watkins enjoyed a great first season for Villa bagging 14 goals and five assists in 37 appearances on his way to 168 points.
His point scoring tailed off a little bit towards the end of the season with Grealish sidelined, so owners will be hoping Villa can keep hold of their fit again talisman.
Villa's creativity is also boosted by the signing of Emiliano Buendia (£6.5m), who notched 16 assists for Norwich in the Championship last season. This, plus another year of experience for Watkins, combined with his reasonable price tag, make the Villa hitman a great option.
Verdict – Start
Dominic Calvert Lewin (£8.0m) – Everton (29.2%)
DCL had been making steady progress season on season before exploding at the start of last campaign, with nine goals in his first ten Premier League appearances.
Injury and Everton's form curtailed his threat towards the end of last season, but he still finished with a highly respectable 16 goals, six assists for 165 points, ranking him fifth of all the Forwards.
Carlo Ancelotti can be credited with a lot of DCL's progress over the last two seasons and with him leaving there are question marks over how Everton will adapt.
Rafa Benitez is a more than capable operator, but it will be interesting to see how they start. Patrick Bamford (17 goals, 11 assists for 194 points) is also priced at £8.0m so if Everton/DCL don't start fast I expect a lot will switch to Bamford when Leeds fixtures turn in gameweek five.
Verdict – Start (only because Everton have an easier start on paper than Leeds).
Conclusion
There were nearly nine million FPL players last season. Ownership levels can be a useful guide when looking at who the standout options are or comparing two players.
When you look at a player of Salah's quality and consistency, I am surprised he isn't owned by nearly everyone in the game but his current ownership level gives you a clear indication that the majority of managers expect him to continue his FPL success.
We do need to be careful, however, when looking at ownership levels to make decisions on our first squads.
Many often use budget players to enable their squad to have more premium players without any real consideration for if they are a useful asset or not. Foster is a great example of this. For me, the 24.5% of managers that own him have wasted a slot in their squad, unless they have also picked Daniel Bachmann.
We also need to consider Effective Ownership (EO) levels when pitting yourself against the other managers.
As an example, I would expect nearly all the 49.9% of managers that own Salah to Captain him gameweek one against Norwich. So do I want to be without him for that fixture? No. It's a different situation when looking at the forwards. With ownership split more evenly over the four most popular choices, it is less of a risk to be without any one of them.
The 'template' is always a good basis for your squad early in the season. I like to aim to have around 70% of the template in my squad and use the other 30% of my squad for differential picks, gut feels and players with short-term upside that can be easily swapped out if they don't work out.
Good luck to all for the upcoming season!
More to come
We hope you enjoyed our first look at the template for the 2021/22 Fantasy Premier League season. We have plenty more planned for pre season and will be publishing advice, team reveals and more strategy guides right up until the big kickoff.
Be sure to keep your eyes on the FPL Connect twitter page for all our latest releases, this season promises to be our biggest yet.