In this new series, we will analyse the trends and statistics in order to predict who the FPL players most likely to be the next bandwagon will be for GW2
The FPL season has started, and the bandwagons have already started rolling.
Last week, we had a look at some potential bandwagons as somewhat of a preview to the season. Now that GW1 is in the books, we can start to see which ones have picked up steam, and which players could potentially start a bandwagon from GW2 onwards.
Current Bandwagons
As of gameweek 1, there have already been a few players that have seen a stark rise in ownership. The top two are Ederson and De Gea, stemming from the injury suffered by Alisson,  who had an ownership of 32% going into GW1.
In terms of performance-related ownership boosts, we've seen Sterling, Rashford and Martial all rise in ownership and price. Sterling scored a hat-trick, with Rashford scoring twice and Martial once.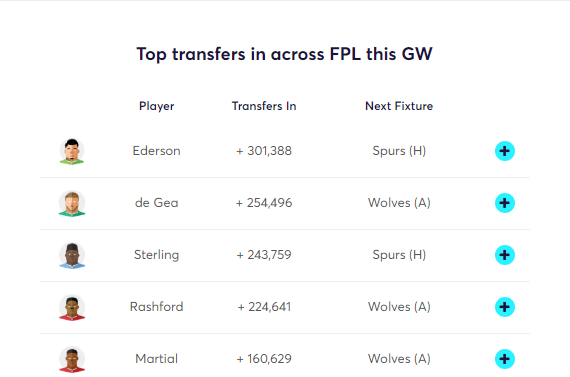 Martial is a particularly interesting one – highlighted last week as a potential bandwagon player, he's a 7.6m midfielder who's playing as a nominal number nine for a top six club.
It was also a fairly slow week for other similarly priced players such as Fraser, Anderson and Bernardo Silva, helping to add to this.
In last week's post, Harry Kane was also mentioned. Though he managed to score a late brace in Spurs' 3-1 win against Aston Villa, there hasn't been much of an immediate bandwagon for him as of yet. Josh King was also brought up, but let's just forget that happened.
Potential Bandwagons: GW2
David de Gea (GK, £5.6)
Now, this doesn't seem like the most bold prediction considering that he's the second most commonly transferred player so far, with most of this stemming from Alisson's injury. That being said, there very may well be a continued uptake in De Gea's ownership over the coming weeks.
In United's 4-0 win against Chelsea, De Gea racked up 7 saves, though was fairly lucky to keep a clean sheet considering that Chelsea hit the upright twice.
However, there are a few factors which point towards managers flocking towards De Gea, even more so than they currently are:
United Defensive Cover: De Gea has an ownership of 17% as of writing this, though Aaron Wan-Bissaka is owned by 35% of current players. Harry Maguire also has a solid ownership of 18%. Essentially, not having United defensive covering can really hurt if they keep a clean sheet.
Fixtures: United have a solid run of upcoming fixtures, with Wolves (A), Palace (H), Southampton (A), Leicester (H), and West Ham (A) making up their next five.
Alisson's Injury: Again, this will continue to increase the demand for premium keepers now that we have a clearer idea as to the extent of Alisson's injury.
Martin Montoya (DEF, £4.5)
Though there generally won't be much of a rush for Brighton defenders, one name that's been brought up a fair bit – chiefly within the FPL corner of Twitter – is their right wing-back, Martin Montoya.
Though not much of an FPL entity at all last season, Montoya has started things off this season with a standard 6-pointer in Brighton's 3-0 win away at Watford.
He started as a right wing-back, different from his more nominal right-back role last season, generally being positioned rather high up the pitch.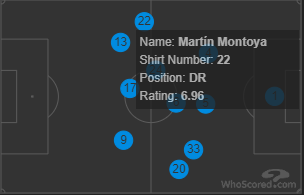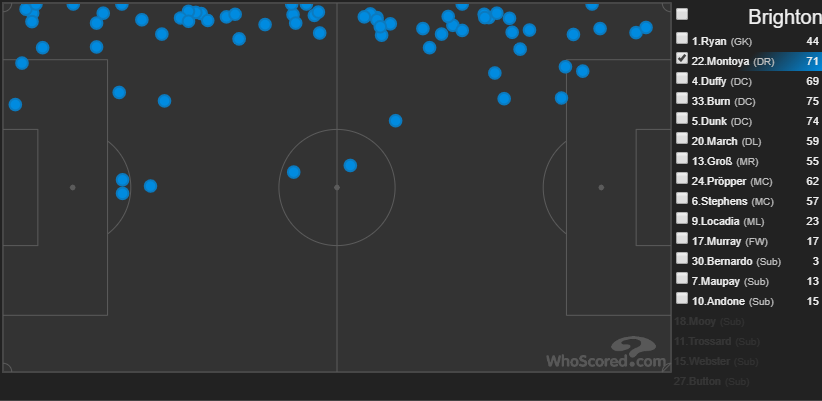 Brighton had an xGA – expected goals against – of 0.67 against Watford, the fifth best of any team over the opening weekend's action.
Obviously one match isn't much of a sample size, but it could reflect a potentially stronger defence for Brighton this season, making their defensive options more palatable.
We all love a wing-back in FPL, of course, so having one which is stationed high up the pitch for a potentially decent defensive side is quite tempting.
Their upcoming fixtures, as highlighted in our preseason preview of Brighton, are very good indeed – they play West Ham (H), Southampton (H), Burnley (H), and Newcastle (A) in their next 5 games.
Teemu Pukki (FWD, 6.5m)
This is another rather left-field pick, though there's been a solid surge in Pukki's ownership following his opening day goal against Liverpool.
As of writing, over 110,000 managers have brought him in – more than have brought in Ashley Barnes, who scored a brace and sits at the same price point as a 6.5m forward.
Norwich looked impressive at Anfield, at least from an attacking aspect. Pukki himself managed 3 shots against Liverpool, as well as 2 key passes – far more than most players could expect to rack up leading the line for a newly-promoted side at Anfield.
Norwich face Newcastle next, who are very much an unknown entity under Steve Bruce, while also having lost several key players in the summer.
They lost 1-0 to Arsenal in a rather drab affair, though Arsenal were without several key players themselves. In some cases this was down to injury, others down to fitness, others down to whatever the bloody hell is going on with Ozil and Kolasinac.
Considering the number of options in the 6.5m forward market, there's room for a lot of moves going forward as people may shy away from the likes of Josh King and Diogo Jota if they fail to perform again this week.
One interesting item to note about this match in particular would be the fact that Pukki drifted more to the left, and most of Norwich's shots came from the left side of the area.
This was the case for Arsenal too, getting more joy down the left, with their goal coming from a ball to the back post, played to Aubameyang coming in from the left. A similar theme here could lead to A Pukki points party, and the start of a potential bandwagon.